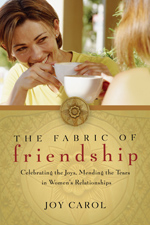 find it on Amazon
The Fabric of Friendship validates the concept that friendships between women can be powerful and beneficial. These relationships can shape who we are and who we can become. According to a Harvard Medical School study, not having close friends can be as detrimental to women's health as smoking or carrying extra weight. The book focuses on both the benefits and the difficulties that can emerge in women's friendships, including some of the darker sides of women's relationships such as envy, competition, aggression, boundary and control issues, problems working together, "the men" thing, unclear communications about needs, and more. It provides information about why these problems can happen; includes real-life stories validating the restorative aspects of women's friendships; and offers realistic solutions that women have undertaken effectively. The Fabric of Friendship is filled with practical ideas of what women can do to celebrate the joys and reclaim the power and authenticity of strong women's friendships.

TABLE OF CONTENTS

The Fabric of Friendship
Celebrating the Joys, Mending the Tears
in Women's Relationships

The Gift of Friendship
Our Mother, Our First Friend
Our Sisters, Our Partners in Friendship
Rising above Envy
Competition in Friendship
Anger in Relationships
Working Well with Women
The Plus of Boundaries
Men & Friendships
Recognizing Needs & Feelings
Surviving through Friendship
Getting It All Together
Appendix: Ten Steps to Better Friendships

ADVANCE PRAISE for The Fabric of Friendship


An illuminating book that looks at women from every perspective. It is fresh, honest, exuberant - and sometimes painful - as it explores the ties that bind us together. A wonderful read for women young and old and in-between.
--Suzanne J. Hemming, Chief Executive Officer, Hemming + Gilman Productions



*****************************



Joy Carol has written a wise, tough, compassionate book about women's friendship. Skillfully, she has woven together stories and probing questions of the many, richly diverse women whom she has interviewed. The result is a valuable resource--not just for women, but for the men who love and seek to understand them.
--Margaret B. Guenther, author of Holy Listening



******************************



Joy Carol celebrates the abundant rewards of friendship among women, making it clear that those that last are usually based on abiding spiritual underpinnings. Through interviews and astute observations, she shines light from all directions on these important relationships. A must-read for women of all ages!
--Frederic and Mary Ann Brussat, authors of Spiritual Literacy and Spiritual RX



*********************************



Joy Carol's book is great news for every woman who wants to have healthy relationships. She has given us a book filled with women's personal stories that make the pages come alive with real people who will touch your heart. Her practical handbook is filled with wisdom and humor about how we can learn the skills of developing, enriching, and maintaining strong friendships. She openly explores subjects about relationships that are often overlooked. Don't miss reading this special book. It may transform the fabric of your friendships with women - and with men too.
--Carol Lundrigan, President, Union Center for Women, Brooklyn, NY



***************************************



Joy Carol's remarkable book touches on many important issues and concerns that women and girls face in all stages and walks of life. Reading this book will give you a new perspective and better understandings about the vulnerability, validity, and power of women's friendships. And it will give you useful ideas how you can improve and strengthen your personal and professional relationships with women. This is a must-read for women--and for men.
--Helen Brumbaugh, President/CEO, Old South Building Company


DESCRIPTION: Journeys of Courage answers the outcry for stories of healing in the violent and turbulent times in which we live. These are powerful accounts about the transformation and healing experienced by communities that have courageously faced difficult challenges. These stories vividly demonstrate what worked for different kinds of communities and how they undertook meaningful healing processes. The stories range from people affected by 9/11 to abuses within the church, to those affected by addictions and poverty, and many more.

Here are some quotes about Journeys of Courage :

A superbly crafted collection of moving stories to inspire all of us!
-by Archbishop Desmond Tutu

Joy Carol has done it again. Wide-ranging and wonderful
-by Nina H. Frost. Soul Mapping.

These are stories that can heal
-by China Galland. The Bond Between Women.

Discovering hope for those who thought it was lost
-by Helen LaKelly Hunt & Harville Hendrix. Getting the Love You Want.

Her stories inspire and encourage
-by Leonora Tubbs Tisdale. Making Room at the Table.

Reading her books is a way to come back to our own reality...
-by Pat Pearson. Stop Self Sabotage.

Carol's elegant new work speaks to the ability of the human heart to survive the unthinkable
-by Deirdre Felton. Bereavement Magazine.

...stories that will give us strength and courage for these times
-by Jim Boyle. Retired President, Uniformed Firefighters Association.

...treasures of wisdom, tenacity, and courage
-by Dermod McCarthy. RTE Television.

...healing that gives hope and strength
-by Mary Zepernick. Past President, Women's International League for Peace and Freedom.

This is a book to be read more than once
-by Ellen Kirby. Past President, American Community Gardening Association.


DESCRIPTION: In these turbulent times we desperately want to "hear" stories that show us how to heal the scars and pain in our lives. Towers of Hope recounts stories about people who have suffered from tremendously difficult situations, such as mental and physical abuse, imprisonment, war, terrorism, life-threatening illness, and approaching death. Although unable to change the terrible things that happened to them, they responded to their problems by transforming what seemed like hopeless situations into healing experiences and personal triumphs. They found wholeness in their losses, traumas, and disabilities. Their stories are made for these times in which we live. They show us that there is good news in the midst of suffering, that people are resilient, that they have a desire to heal, that they can stand with optimism and perseverance and recover the treasures of life.

Here are some quotes about Towers of Hope :


...eloquently moving stories that fill us with hope.
-by Archbishop Desmond Tutu

...inspires readers toward this own potential.
-by Harville Hendrix and Helen LaKelly Hunt, Giving the Love That Heals

...lovingly crafted, wide-ranging stories of healing and recovery.
-by China Galland, The Bond Between Women

...masterful framing of universal teaching.
-by Frederic and Mary Ann Brussat, Spiritual Rx

...this unique book will be a gift to all who read it..
-by Nina H. Frost, Soul Mapping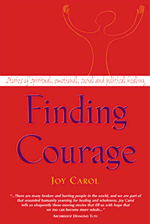 This is one of the most inspiring books I have read. Carol, who has worked for the United Nations Development Programme, Save the Children and the Christian Childrenís Fund, draws on her international network to bring together accounts from around the world. While the authorís American origins are clear, the compassion, love and healing in the stories is international. Ranging from the contribution of an adopted child to a family, to saying goodbye to one of the authorís oldest friends, each story is followed by the authorís comment, drawing principles for us all. Carol tells of the capacity to forgive old hurts, "Practicing forgiveness and clearing hatred from our hearts makes room for the ĎGreat Spirití to work hope-filled miracles in our lives" (p. 88), and of a drunk driverís redemptive contributions. One of the most deeply moving stories was of a quadruple amputee foster carerís courage and determination to resume her caring role. The book has many wise quotes from around the world, enhancing the spiritual depth of the presentation. You may not agree with all the theology, but you will find help for your days of wondering how to keep going. These stories helped my courage grow. I recommend the book most strongly. Students considering their competence in values for their social work qualification will find this book a challenge; it may help to identify ways of working with the strengths of those who seek their service.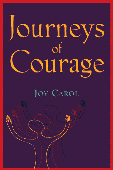 Journeys of Courage is filled with powerful, real-life accounts of communities that experienced difficult or violent situations, and explorations of the ways they undertook their healing processes. These are stories of real people within real communities, ranging from those affeced by the devastating losses of September 11th to the survivors of trauma in Northern Ireland. They vividly demonstrate what has worked for different kinds of communities. These stories can encourage us to move ahead by telling us personal truths about what has worked before, what has failed, what we can try ourselves and what we should avoid